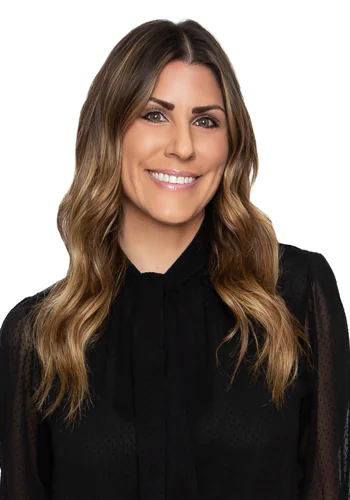 Nina D'Alessio's passion for real estate and her authenticity make for a winning combination. She is highly knowledgeable and reliable as a Realtor but is also a kind, caring and compassionate person all around. Her one and only objective is to make her clients happy, stopping at nothing to make sure she succeeds at this. Nina has a certain air about her, that it's impossible not to feel completely comfortable and safe, knowing you're well taken care of throughout the buying and/or selling process.
Born and raised in East Hanover, Nina lives in town with her husband, a police officer, their two teenage sons and the family dog. With her children in the local public school system and heavily involved with sports, she started the East Hanover Recreation Baseball "Home Run Club" and "Player of the Week". She later expanded her volunteer initiatives and began sponsoring an annual "Home Run Derby" for local baseball players. While this event is wildly successful, the importance to Nina is to give the children a day to enjoy and look forward to with their family and friends. This is what motivates her to continue doing it, year after year.
Nina wanted a career where she could bring joy to other people, while fulfilling her dream to truly love her job on a daily basis. This brought her to a career in Real Estate. Joining Century 21 The Crossing, with offices in both Morris and Essex counties, allowed her to expand her reach across Northern NJ. As an area expert, she is well-versed and extremely knowledgeable in the ever-changing real estate markets in Morris, Essex and beyond. From the day she began her journey in real estate, she has proven to be a valuable part of the industry, as evidenced by her many satisfied clients and accomplishments. Each party of her past dealings can attest to the dedication, personalization and professionalism she brings to each interaction.
If you are buying, selling, renting…or just curious about the market, there's only one dedicated, compassionate and reliable agent for you. That agent is Nina D'Alessio.
If you're looking to make a purchase call Nina D'Alessio now. As far as realtors go I had used several in the past but she was the only one with the complete package. Complete yet concise communication, solid knowledge of houses for sale and thorough market research when needed. Experienced realtor with a solid network in the area (Morris County).
Akil
Nina was the best thing to happen to us in our search for our forever home. We found her by chance and felt so comfortable with her after our first showing. She was always available and we never felt we were bothering her with the million questions we had. She was also super accommodating to our schedule for showings. She has become more than just a realtor to me and my wife as we now see her as a friend. Truly one of the best decisions I've ever made in having her as our Realtor.
E. Sidar
Great experience on the sale of my father's house. Always answering and solving any inquiries. Always having a nice attitude and friendly response. Will use her services in the future!
Ernesto G.
Nina helped my husband and I find our dream home. Though the process was not an easy one, Nina's confidence and perseverance landed us the perfect house for our daughter to grow up in. We could not have asked for a more reliable and trustworthy agent for the job. A million thank you's to the amazing woman behind it all.
The Mannings