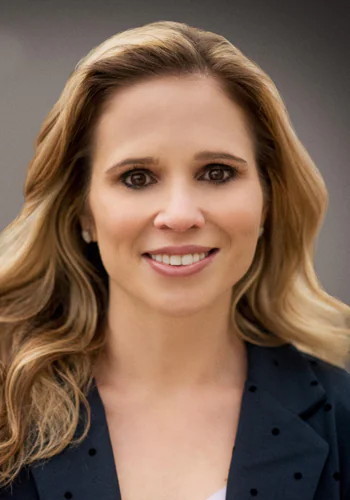 Nicole is a consummate real estate professional. Her skill and professionalism are unparalleled as she works in a swift and efficient manner when assisting clients with their real estate endeavors. Nicole has over nine years of experience with luxury residential sales and leases, and has worked with developers in selling new construction, as well as scouting off-market homes and investment properties for buyers. She is a graduate of Cornell University in Ithaca, NY and she worked at New York City based marketing and finance firms prior to venturing into real estate.
Engaging and confident, Nicole draws people in immediately. Nicole's clients can attest to her market knowledge, her strong communication skills, and her vigilance throughout every step of the sale. She is keenly aware of her clients' individual needs and goals and stops at nothing to find and negotiate the best possible deal.
Nicole lives with her husband and three children in North Caldwell, New Jersey. Outside of real estate, Nicole can be found at the barn, training for her next hunter/jumper horseshow. She is also determined to eat her way through all the best restaurants in New Jersey so do not hesitate to ask for or pass along dining recommendations!
Nicole has great instinct of what her clients are looking for. She did not waste my time showing me places I would not be interested in. After I bought the property she went above and beyond to continue to help me. She gave me numerous contacts for different contractors that I needed to fix my condo. She also brought me back several times before I closed so that I was able to line up all work that needed to be started. I was able to start working the day my house closed! This saved me a lot of time and money. She is young and current on the market and filled with a plethora of knowledge. She made the experience of buying a home fun and exciting. I love her and would recommend her very highly.
Steffi E.
We can't recommend Nicole highly enough! During the search for our home in the Caldwells, Nicole become more than an agent. She became a trusted friend and confidant. Nicole's commitment to understanding us and helping us find the right home for our family was evident from the first time we spoke. She took time to understand our needs - listening patiently and asking good questions. Then she applied what she learned to help us search for a home in the Caldwells. Her expert knowledge of the area was incredibly helpful as she offered honest perspective on the value of different options and pointed out some of the strengths and challenges of each home. As a lifelong resident of the area, she knows the ins and outs of the different neighborhoods and local culture intimately. She is incredibly responsive and worked hard to help us from the beginning of the process to the very end (and beyond). We weren't living in the area while we were searching for our home, so Nicole would attend open houses on our behalf and would Face-time us in so that we could get a virtual tour of the place. When we found a place that was right for us, she was a strong advocate, helping us arrange for the appropriate inspections. While this may not sound exciting, it wound up saving us a significant sum of money. Her commitment didn't stop once the closing was over. Nicole has been an incredible resource - helping us find a painter, a landscaper, a locksmith, an insurance agent, and more. Her referrals are always affordable, honest, reliable, and do excellent work. We even texted her recently for a recommendation about where to go apple picking with our kids. Often our first instinct when we have a question is to text Nicole. And she never lets us down.
A. Lucas
We met Nicole on a chance encounter and are so grateful we did! We felt lucky to find a realtor who is neither pushy nor overbearing but still gets things done! Nicole knows the area well and if there is a location that is new to her she will quickly do the research needed to become an expert on it. No request is too big or small for Nicole. She is organized, on top of all the details and most importantly a people person. She is an excellent communicator which really makes the deals happen. Nicole was considerate and thoughtful towards our two young children during the open houses and even after we closed. Our three year old fondly knows her as Ms. Nicole. She found and helped secure a one in a million property for us and we are forever grateful. We urge anyone - work with Nicole!
Jenna S.